In order to reset Any Kasa Smart Wifi Plug the process remains the same. Be it "Kasa Smart Plug Mini", "Kasa Smart Wifi Outdoor Plug", "Kasa Smart Plug Slim", "Kasa Smart Wifi Power Stripe".
Before we learn reset process we should know, there are two types of reset's available. First is the Soft Reset and Second is Hard or Factory Default Reset. So to reset any kasa smart plug, you will need to hold down the control button given on it. Additionally you will be able to reset your smart plug through Kasa App too. Lets learn how-
Kasa Wifi Plug Soft Reset
We can go for soft reset when we want to connect our smart plug to new wifi router or new wifi access point. Because as we do a soft reset it will only reset its wi-fi connection, while other settings and configurations remains same on the plug. So, in case your plug keep getting disconnected from Wifi then we recommend you to go for this reset.
First and foremost, make sure your plug is connected to an electrical outlet.
Now let it reboot for around 2 minutes and then try the reset process.
In order to do a Soft Reset you will need to press the control button on your Kasa Smart Plug for around "5 seconds".
After 5 Seconds you can release the button. And go into your Kasa App to reconnect the plug to Wifi Network.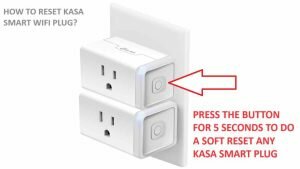 Learn Kasa Plug Factory Reset Method
We recommend you to go for hard reset in case your device is not working at all. After "Hard reset/Factory Default Reset" you will have to Setup Kasa Smart Plug again.
Firstly your plug should be connected to an electrical outlet.
Now, press the "Control button" on your plug for around 10 seconds. As you do that depending upon your model number you will see a "Amber & Blue" or "Amber & Green" light on your plug. Also if you don't then press the button for around 15-20 seconds.
This way all the previously saved configurations will be lost. And the plug will go to its factory default settings.
Now, you can setup the plug again.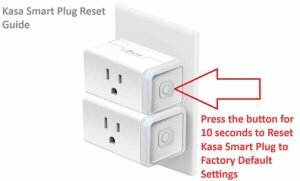 Factory Default Reset Via Kasa App
If you are using Kasa Smart App(iOS, Android) and your plug was already setup earlier using the app. Then you can also reset it via its app. Lets see how-
Open the Kasa Smart App, then goto the Devices List section. There swipe left on the smart plug that you want to reset.
It will then give you an option to "Delete" the plug.
Once you click on "Delete", it will pop-up with "Remove smart plug" details.
You simply just need to click on "Remove Device". This way your plug will go back to factory default settings.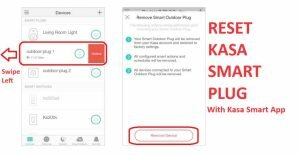 Important Features Of Kasa Plug That You Can Use With Kasa Smart App
Setting up schedule on Kasa plug?
Setting up Away Mode on Kasa Smart Plug?
Timer Set On Kasa Plug?