With easy voice commands, you will be able to control your smart plug via your Google Home. So, let's learn how to connect a Kasa smart plug to Google Home in just 2 minutes. First and foremost we will need to simply setup our Kasa Smart Plug. 
If you have Kasa Model Number (EP25, EP10, KP125, HS103, KP115, HS105, HS100, etc), then check how to Setup Kasa Indoor smart plug, here.
In case your model number is (EP40A, KP405, EP40, KP401, KP400, etc) then click here to learn how to Setup Kasa Outdoor Smart Plug.
On the top of that we assume you have already Setup Google Home too. Now, let's learn how to connect Google home with Kasa smart devices.
Connect Kasa Smart Plug With Google Home
First and foremost you need to make sure you have successfully added the smart plugs to your Kasa Smart App. You can check that by opening the app and going to the "devices" section at the bottom left hand corner. There it will show you a list of all the smart devices currently installed there.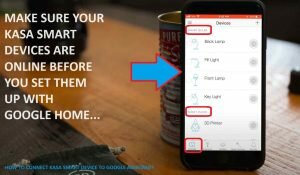 Next, open the "Google Home App" and tap the Add button (+) which you see right at the center of the screen.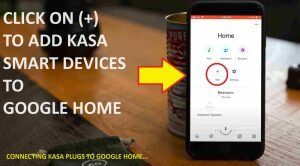 On the next window select "Setup a Device" which happens to be the very first option.

Then select the second option which says "Works with Google".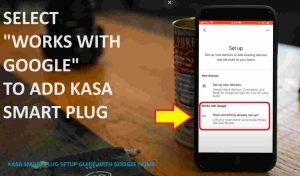 Subsequently, you will need to search for "Kasa" on the following screen. It will show you "Tp-Link Kasa" so tap on that. 
You will then have to login using your Tp-Link username and password to authorize Google Home to Access your Kasa Smart plugs and other devices. Google home won't be able to control your Kasa devices if the remote control is not enabled. You can see how to enable remote control on Kasa Smart Devices, here.

It will then ask you to choose the devices that you want to add with Google Home. Plus to which room or location would you like to add it.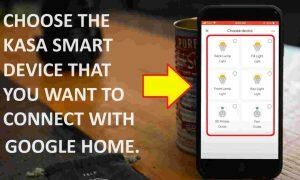 If you would like to add more smart devices to it then you can repeat the process. In case you are done adding the smart devices to the google home and you don't want to add more then simply click on (x) button on the top left hand corner.

You will then be returned to the start screen of google home. Where you will be able to see your smart devices showing up under different rooms.
How to Turn Kasa Smart Devices On/Off Using Google Assistant?
After successfully connecting Kasa plug To Google Home, you will be able to control your smart devices just with voice commands. 
So, you just need to say "Hey Google, turn the living room lamp on". Here "Living room lamp" is the name of your smart device. So, you can simply put your smart device name here and enjoy the voice command features. 
In order to turn it off just say "Hey Google, turn the living room lamp off". This way you will be able to control your smart plugs, smart lights, smart CCTV, and other Kasa smart devices. 
Other Important Topics On Kasa Plugs That You Should Not Miss
Why my smart plug is giving amber light or why it has red light or blinking green. Or learn its setup with Alexa. Or how to reset the plug. Learn about all these topics here-