If your Kasa Outdoor Smart Plug shows a red light, then it means it is not connected to the internet anymore. Similarly, we will learn what it means when a Kasa plug light blinks green, orange or white. Just In case your plug gives amber light, then you can check Kasa Indoor Plug light status here.
Red, Orange, Green, or White lights on the Kasa have different meanings. So, lets learn how to resolve issues related to these lights-
Kasa Outdoor Plug Light Status and Meanings
On the outdoor plug the system light is marked with Wifi Sign. 
Red Light On Kasa Plug Means
So the red light on the smart plug means "No Wi-Fi Connection. To resolve this first cross check if you have internet on the router. If yes, then simply press the "control button" on your switch for around 5 seconds while it is connected to the electrical socket.
If you see a blinking green light, then goto your Kasa Smart App, and select the wifi network for this plug. In case this doesn't work then, simply reset kasa smart plug. After this, Setup the Kasa outdoor smart plug again.  
This will definitely resolve your issue. In case it doesn't then try plugging the plug in the same room as the router and then if it shows solid white light or starts working fine. Then Wifi range is the issue. Which means your plug is too far away from the router.
Now, simply use the plug at a different location where it is a bit closer to the Wifi Router. Or else you can also install a wifi extender or wifi repeater. So, if you setup wifi extender with Kasa Smart Plug then you won't face this connectivity issue again.
Because the wifi extender will boost your router's wifi range throughout your house and then you will be able to connect the Kasa smart plug to the wifi extender, which will provide it with seamless internet.
Orange Light On Kasa Plug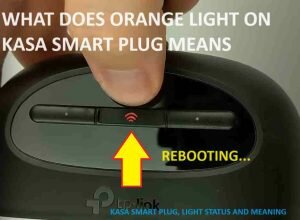 It means that your device is starting up or rebooting. So, you simply just need to wait for couple of minutes.
Blinking Orange And Green Light
Your smart plug does this when it is in "Setup Mode". So, when you are setting up the smart plug during that time it will start blinking orange and green. So, you simply just need to follow the Setup steps that it shows on your app.
Solid White Light
This shows your Kasa Plug is Setup properly to the Internet.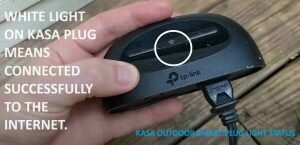 Blinking Orange
The smart plug Blinks Orange when you reset it. In order to reset the outdoor smart plug, you simply just need to hold the Control Button on it for around 10 seconds. While you do this the plug should be connected to the wall outlet.
Blinking Green
During the initial setup when you open the Kasa App at time your plug will blink green. Green blinking light means that it is searching for Wi-Fi.
If you don't already have the Kasa Smart App, you can download it from here for Android or iOS.


Important Kasa Plug Topics That You Probably Need To Know!
Check the topics given below to learn about how to connect your plug to alexa, google home, how to reset it etc.
How to set time on smart plug?
How to set schedule on smart plug?