Amazon Echo Show 15 is great device which works as photo frame, reminder, and help you perform all daily to-do tasks easily. In this amazon echo 15 manual setup guide we will walk you through about how to install it for the very first time.
Before we start Echo Show 15 Setup you will have to make sure you have below mentioned things handy:-
Your router's wifi name and password.
The mount is mounted on the wall.
Echo show 15 is plugged with stable power led.
Installing Echo Show 15 on a wall mount
You are provided with wall mount and the screws within the box. Along with this you will just need on Electric Drill with 8mm drill bit, along with phillips number 2 driver bit. Plus keep hammer and wall-safe tape handy too.
In order for all to access it properly, mount it at eye level. Moreover, mount it at location free from obstacles. So, that you can use it in both orientations (horizontally and vertically).
First step involves you to paste the mounting template on the wall.
Next, use your level tool, or level app (iOS or Android), to level your mounting page or template. You can even use your iphone as level.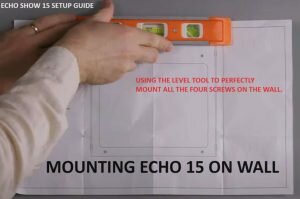 You can paste this mount template or diagram using a wall tape. Next use an Electric Drill (5/16 inch) drill bit to make four holes.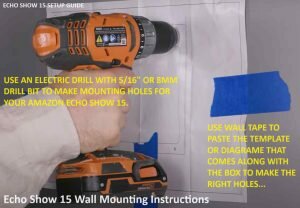 Note:-Once you make all the four holes, remove the paper template.
Next, you will need to hammer the plastic anchors into all the four holes.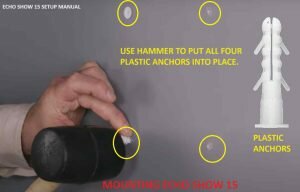 Align the wall mount onto the four screws. And with the help of Philips Driver, drive the screws into four wall holes to secure the mount in place. Make sure to screw them properly until they are tight and flat against the wall mount.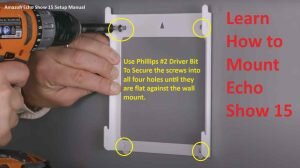 Next, we will need to connect the power plug to the back side of the echo 15. Don't Connect the adapter to a wall outlet yet.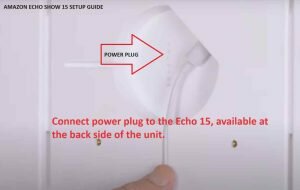 Lastly, you will just need to place your Echo 15 onto the four hooks available to hold your device in position. You will need to slide your Unit down in order for hooks to hold it properly. Plus, all 4 hooks needs to be at place or engaged with show 15. Additionally the camera should be on the top side. Plug the unit's adapter into a electrical socket to begin Echo Show 15 Setup.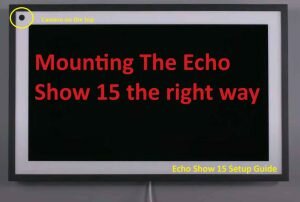 Setting Up Echo Show 15
As you pluggin the Echo 15 for the first time, the very first screen will ask you to choose your "Language". The upcoming on screen prompts are also too easy to follow. Nevertheless, we will be guiding you here on each step.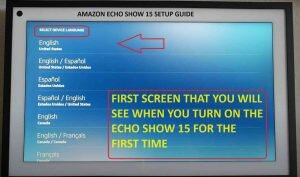 On the next screen it will ask you to choose you wifi network name. So, tap on your router's network name and type its password. Password is case sensitive so type it as it is. Click "Done", and then tap "Connect".
Third screen will ask you to type your amazon account password. In case you want to login via different account then simply just click on "Switch Accounts".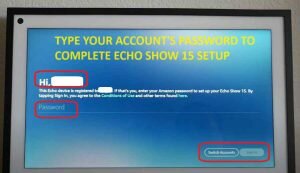 It will then send a verification code on your cell phone to register your unit. You simply just need to type it on the screen to complete this step.
Confirm the time zone information in this step and tap on "Continue".
"Where is your Echo Show 15"? Here it will just confirm you about your address. So, click on "continue", "skip", or "add address", according to your choice.
Simply just select the room type you will be using echo show 15 in the next step. And then you can rename it in the next step.

Imp:- Since it is a "Digital Photo Frame" at first place so, select the type of photos that you would like it to display. You can even choose from "Amazon Photos".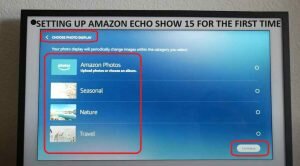 If there will be latest Software Updates available, it will ask for your permission to "Download & Install". It might take around 10-15 minutes to update it.
In case you have kids at home or maybe pets that you need to check on while you are at work. Then we recommend you to "Enable" the feature here. Which helps you to monitor or see through echo show 15's camera remotely just like any CCTV.
Next, it will ask if you would like to "Enable or Disable" amazon sidewalk. Sidewalk users agree to contribute small amount of Internet Bandwidth from their network. You can read more about What is Amazon Sidewalk here.
That's, it your Amazon Echo show 15 setup is now complete.
Important Articles Related To Amazon Echo That You Should Not Miss!